We are an Innovative Therapeutic Apheresis company focused on cleansing patient blood of neutrophil extracellular traps (NETs).
We are developing a novel patent protected transformative, lifesaving, blood purification device, for use in the treatment of sepsis, autoimmune diseases, cancer and COVID-19.
Santersus AG has developed a unique strategy for the treatment of patients in a variety of therapeutic areas through the selective extra corporeal removal of NETs from blood, using our patented NucleoCapture apheresis device.
The Company's founders have an outstanding track record in realizing significant returns for their novel discoveries. The founders have collectively been responsible for over 15 patents and 30 publications with many of their patents leading to the formation of eight companies that have resulted in NASDAQ listings or acquisitions by some of the leading healthcare-pharma players.
Click a profile to read more
Scott Maguire
Executive Chairman
Dmitry Genkin
Executive Director & Chief Scientific Officer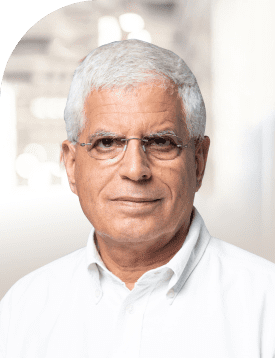 Moshe Mizrahy
Non-Executive Director
Scott Maguire Executive Chairman
Mr. Maguire has over 30 years of global life sciences and healthcare investment banking, management and board experience, raising well in excess of $1billion as an executive and an advisor.
Mr. Maguire is a co-founder and board member of Cannaray Limited. Cannaray is a medical cannabis and cannabodiol company, operating in the UK and Germany. After closing on a £7.8 million Series A raise, Cannaray through acquisitions quickly became Europe's second largest (in terms of revenues) cannabis company.
Having been Chairman and CEO of Xenetic Biosciences Inc (XBIO), Mr. Maguire turned a life science start-up with a collection of patents into a clinical stage company listed on NASDAQ, a listing he led in 2016. Mr Maguire raised approximately $35M from the private and public markets as well as $20M from strategic investors and has transacted license agreements for Xenetic worth $178M.
Mr. Maguire was a co-founder and board member of UK dialysis services, Renal Services Ltd. He led the fundraising from seed capital to Series C. Renal Services became the second largest private provider of dialysis services in the UK. The business was exited via a trade sale to DaVita Inc in late 2020.
In 2002 he founded Healthcare Capital Partners Ltd, a healthcare and life science corporate finance and proprietary investment boutique which has been responsible for hundreds of millions in investments and exits since its founding. In 1996, he co-founded the Arthur Andersen global healthcare/life sciences corporate finance practice based in London which he assisted in building from 2 to 35 bankers globally. Scott started his banking career on Wall Street with Merrill Lynch in 1987.
Dmitry Genkin Executive Director & Chief Scientific Officer
Since 2006, Dr. Genkin has served as the Chairman of the Board of Pharmsynthez plc (MICEX: LIFE), an Eastern European pharmaceutical company specializing in the development of oncology drugs and manufacture of science-intensive substances. Since 2002, Dr. Genkin has served as a director of and on the scientific advisory board of Xenetic Biosciences, Inc. (NASDAQ: XBIO), a biopharmaceutical company focused on developing next generation biologic drugs and novel oncology therapeutics. Dr Genkin is co-founder and former director of VBI Vaccines Inc (NASDAQ: VBIV) – a clinical-stage biopharmaceutical company.
Moshe Mizarahy Non-Executive Director
Moshe Mizrahy co-founded InMode Ltd. (NASDAQ:
INMD) in 2008 and has been our Chief Executive
Officer and Chairman of the board of directors since
inception. Prior to that, Mr. Mizrahy was co-founder
and chief executive officer of Syneron Medical Ltd., a
medical aesthetic device company based in Israel. Mr.
Mizrahy was also the former chief executive officer of
Home Skinovations Ltd., an international medical
aesthetic consumer devices company active in the
home use market and is currently the chairman of its
board since 2007
In addition to Home Skinovations Ltd., Mr. Mizrahy
currently sits on the board of directors of the following companies: SipNose Ltd., Pet Novations Ltd., Peri-Ness Technologies Ltd., Easy-Lap Ltd, O.B.-Tools Ltd., Urifer Ltd., Easy Notes Ltd., Escape Rescue Systems Ltd., New Forest Wood Products (2012) Ltd., M.N. Business Strategy Ltd., Silk'n Cure Ltd. and Himalaya Family Office Advising Ltd. Mr. Mizrahy has a B.S. in Engineering from the Tel Aviv University and an MBA from Pace University, New York.
Click a profile to read more
Andrew Daniel Aswani
Chief Medical Officer
Aleksander Zaporoztsev
Chief Financial Officer
Simon Tallet Chief Development Officer
Mr. Tallett serves as Chief Development Officer. He is
B.Sc., MPharm, ABPI, GPhC. Simon has extensive
experience in the Healthcare and Life Science areas.
After international academic studies in the fields of
Microbiology/Virology and Pharmacology, Simon
spent several years in various Clinical Pharmacist roles
including Aseptics, Cardiology, Nephrology,
Respiratory and Immunology. Simon has previous
experience in clinical research in the Louise Cootes
Centre at Guys and St Thomas Hospital, where he
designed and led a research project looking at the
effects of smoking on the efficacy of
Hydroxychloroquine uptake in Lupus patients –
Published in Arthritis & Rheumatism Abstract
Supplement of American journal of Rheumatology
(Volume 54, Number 9, September 2006) and
presented in Washington D.C.
Simon found his early medical passion in Paediatrics
whilst working at Great Ormond Street Hospital,
London. More recently interests have led him to
pursue active roles campaigning for novel
therapeutic approaches to be embraced in medicine.
Now, as CEO and Founder of Perceptive Edge, Simon
has been involved in a variety of pharmaceutical and
life science companies – evaluating conceptual ideas
and developing and establishing areas of growth and
investment opportunities.
Simon holds a B.Sc. from the University of Western
Ontario, Canada and Master's in Pharmacy from
University College London School of Pharmacy,
England. Simon is a Member of GPhC (General
Pharmaceutical Council) and ABPI (Association of
British Pharmaceutical Industry).
Andrew Daniel Aswani Chief Medical Officer
MD, PhD (London), MRCP (London), FRCA (UK), EDIC,
FFICM.
Dr Aswani serves as Chief Medical Officer. He is
Consultant in Intensive Care Medicine & Anaesthesia
at Guy's and St Thomas' NHS Foundation Trust,
London. He is also Consultant in Intensive Care
Medicine at London Bridge Hospital (HCA). Dr Aswani
has been dedicated to a top tier career in Intensive
Care Medicine and Anaesthesia since 2001. Dr Aswani
is the Clinical Lead for Junior Doctors and the Clinical
Lead for Vascular Access at Guy's and St Thomas'. He is Scientific Advisory Board member of Cannaray Ltd.
Dr Aswani undertook extensive training in multiple
specialties in the leading clinical institutions in
Manchester, Sydney and London. He completed his
PhD thesis at Queen Mary University of London
(2010-2016) where he studied the role of cell-free
circulating DNA released into the circulation in shock
states to explain sterile organ injury and death. Dr
Aswani introduced a novel therapeutic agent to bind
circulating cell-free DNA that resulted in multiple
organ protection and improved survival. Dr Aswani
continues to perform research in this field and has
recently completed preclinical studies for Santersus
Ltd.
Aleksander Zaporoztsev Chief Financial Officer
Aleksander Zaporoztsev joined Santersus AG team
with over 20 years of financial experience, 10 of those
years of financial and management expertise in the
biopharmaceutical industry.
Mr. Zaporoztsev is a board member of EPhaG AS and
Kevelt Pharmaceuticals OY and serves as a chairman of Audit Committee at AS PRFoods (Nasdaq: PRF1T). Since 2009, Aleksander has held various administrative roles in portfolio companies of Amber Trust S.C.A., a private equity fund.
Aleksander is a partner at FINARTE OU, a financial and
management advisory firm.
Prior to joining Amber Trust S.C.A., Mr. Zaporoztsev
held multiple financial and administrative positions
at the biggest industrial holdings in the Baltic States
– BLRT Grupp AS, focused on marine industries and
headquartered in Tallinn, Estonia. Aleksander's
earlier experience includes a number of
senior financial and management positions at
financial and industrial companies in the Baltic
States.
Mr. Zaporoztsev is a strategic finance executive with
extensive experience in budgeting and reporting,
domestic and international finance,
strategic planning, cash flow management,
accounting (incl. IFRS), taxation, treasury
and business development.
If you would like to join us in our revolutionary journey, please send your CV.
If you would like to join us in our revolutionary journey, please send your requests for further information.
If you would like to join us in our revolutionary journey, please send us your collaboration
and academic proposals.